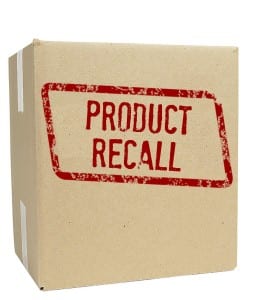 The Consumer Product Safety Commission (CPSC) has proposed amendments to its Voluntary Remedial Actions and Guidelines that would make corrective action plans for product recalls legally binding, which is a departure from over forty years of working with manufacturers on recalls and could impact liability risks for companies.
Previously if a manufacturer, distributor or retailer reported to the CPSC a consumer product that had violated a standard or created a substantial risk of injury or death to the public, they were allowed to negotiate and create a voluntary "corrective action plan" (CAP) that would "fast track" recall remediation measures and notify consumers.
Unlike mandatory CAP's, voluntary CAP's are not legally binding which allows companies to diverge from the CAP and in some cases not accomplish the CPSC's desired results of the recall. In September of this year, the CPSC proposed a rulemaking to the standardized recall agreements based on studies which showed that product recalls seldom were totally successful.
In November of this year the Commission approved by a margin of 3 – 1, the proposed rulemaking to standardized recall provisions and make voluntary recall agreements legally binding. This means that the CPSC will have greater input into what will be required in the voluntary CAP's which in some cases could include the creation of mandatory compliance systems within the company that would address issues arising out of the product recall.
For example, the CPSC could impose enhancements to the company's existing compliance policies by ensuring that its ongoing program contains written standards and policies, a mechanism for confidential employee reporting of compliance related questions or concerns, and appropriate communication of company compliance policies to all employees through training programs.
The new rule would give the requirements within the voluntary CAP teeth by allowing the court system to get involved when violations occur. While Commissioner Robert Adler, who proposed the new rule, admitted that the violation of corrective action plans has not been a "big problem," he explained that even if one corrective action plan is violated, "that [violation] may leave hundreds and hundreds and hundreds of thousands of consumers at risk of a defective product."
https://jacobysolutions.com/wp-content/uploads/2023/08/Jacobysolutions-300x150.jpg
0
0
BillJ
https://jacobysolutions.com/wp-content/uploads/2023/08/Jacobysolutions-300x150.jpg
BillJ
2013-11-20 12:11:03
2013-11-20 12:11:03
CPSC Voluntary Remedial Actions and Guidelines Final Rule