FTC to host Care Labeling Rule roundtable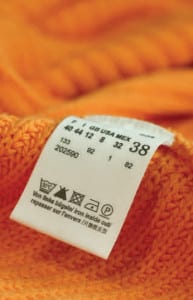 The Federal Trade Commission (FTC) will host a public round table to discuss proposed revisions to its Care Labeling Rule on October 1, 2013 in Washington, DC.
The Rule requires manufacturers and importers to attach labels with care instructions for dry cleaning washing, bleaching, drying and ironing of garments and certain piece goods.
The round table will focus on the following:
a proposal to allow manufacturers and importers to include professional instructions for wet cleaning – an environmentally friendly alternative to dry cleaning – on labels if the garment can be professionally wet cleaned and on whether the FTC should require a wet cleaning instruction for such garments
discussion on the differences between the care symbols of ASTM International and the International Organization for Standardization (ISO), whether labels should identify ISO symbols as such if used to comply with the Rule, the change in the meaning of the circle P symbol in the ASTM system, and consumer understanding of symbols.
how to clarify what constitutes a reasonable basis for care instructions.
The round table will be held on October 1, 2013, from 9:15-3:45, in the FTC's Satellite Building Conference Center at 601 New Jersey Avenue, NW, Washington, DC.
Requests to participate as a panelist must be received by September 3,  2013. Written comments regarding the agenda topics, the issues discussed by the panelists at the round table, or the issues raised in comments received in response to the Notice of Proposed Rulemaking must be received by October 15, 2013.
Do you have questions about the Care Labeling Rule or need help with labeling  related issues regarding product or packaging?
Jacoby Solutions provides consulting services for compliance related issues.
Contact Today if you need help in this area!
https://jacobysolutions.com/wp-content/uploads/2023/08/Jacobysolutions-300x150.jpg
0
0
BillJ
https://jacobysolutions.com/wp-content/uploads/2023/08/Jacobysolutions-300x150.jpg
BillJ
2013-07-26 12:19:17
2013-07-26 12:19:17
FTC to host Care Labeling Rule roundtable