Is Your Business Registered with SaferProducts.gov?
Posted By: Bill Jacoby on October 11,2011
When problems become complaints:
In every potentially damaging customer service interaction, there is a pivotal point. And this point is not just the initial problem or incident reporting; it is the manufacturer's or distributors reaction to the fraught interaction your customer experiences.Your employee's response to the customers inquiry or complaint now needs to take into consideration the pace at which the angry customer now escalates the problem into a formal complaint on the safer products.gov website.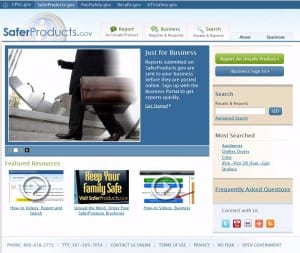 Take a look on the saferproducts.gov website and you will see several reports filed by consumers that were a result of not getting a satisfactory or timely response from the manufacturer. Some of them were not happy with the response given and others never even received a reply or call that was promised.Some of the reports submitted have the box checked No when asked if they plan to contact the manufacturer.
If you care about your brand equity and consumer confidence, you must register your business with Safer Products.gov so that you can be alerted when an incident is filed. Some of the key benefits of registration are:
Maximizes your time to review and respond to Reports before the 10-business day Report publication date.
Notification of Reports involving your products sent to you quickly and securely through e-mail.
Convenient and secure online account to provide comments on Reports and to communicate with CPSC.
Accounts can be set up with multiple users, with different permission settings for each user, to provide maximum flexibility.
Registration also provides you with a way to make a claim that a report contains materially inaccurate information . This information can be false and misleading and is so substantial as to affect a reasonable consumer's decision making about your product. So if you care about your brand, take a look at your company's incident reporting and escalation process and definitely  register your business so you can take a proactive approach when possible. You should always post a comment in response to a report. This is not  brand protection and compliance, just good business.
Bill Jacoby is the principal at Jacoby Solutions which has developed a CPSIA Operational Readiness Audit to help companies identify risk and improve their company's business operations.
https://jacobysolutions.com/wp-content/uploads/2023/08/Jacobysolutions-300x150.jpg
0
0
BillJ
https://jacobysolutions.com/wp-content/uploads/2023/08/Jacobysolutions-300x150.jpg
BillJ
2011-10-11 02:40:51
2011-10-11 02:40:51
Is Your Business Registered with SaferProducts.gov?