The new ASTM Standard for Sling Carriers has a revised scope which further defines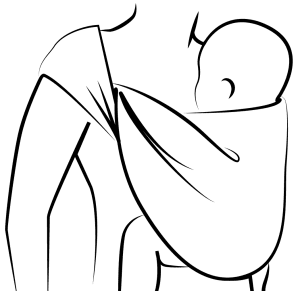 which infant carriers fall within the scope of F2236 (Soft Infant and Toddler Carriers) and which fall within F2907 (Sling Carriers).  The CPSIA requires all baby carriers to belong to one or the other.
The standard defines a sling carrier as "a product of fabric or sewn fabric construction, which is designed to contain a child in an upright or reclined position while being supported by the caregiver's torso. In general, the child will be between full term birth and 35 lb (15.9 kg)."
Further definition includes; "Slings consist of a variety of unstructured designs ranging from a hammock-shaped product suspended on the caregiver's upper torso to a long length of material wrapped around the caregiver's body."
Additionally the standard says, "The sling carrier is normally "worn" by the caregiver, and thus the child is supported from one or both shoulders of the caregiver. These products are worn on the front, hip or back of the caregiver, with the child either facing towards or away from the caregiver or reclined on the front only of the caregiver."
No sling carrier produced after the approval date of new standard shall either by label or other means, indicate compliance with the specification unless it complies with all of the requirements of the new standard.
https://jacobysolutions.com/wp-content/uploads/2023/08/Jacobysolutions-300x150.jpg
0
0
BillJ
https://jacobysolutions.com/wp-content/uploads/2023/08/Jacobysolutions-300x150.jpg
BillJ
2013-10-25 08:47:51
2013-10-25 08:47:51
New ASTM Standard for Sling Carriers Released (ASTM F2907-13b)